I talk often about stress and pregnancy with my clients, mostly because it's very important for mom's health and also baby's predisposition and possible future health issues. But the concerns can even start with fertility and trying to conceive, to carrying a successful pregnancy and the future health of the child.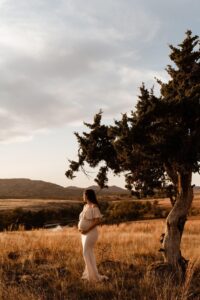 The main stress hormone is called cortisol and is made by the adrenal glands, which sit on top of the kidneys. The brain interprets something as stress and sends messengers to the adrenals and the nervous system to respond. The adrenals respond by releasing cortisol and adrenaline. Cortisol has far reaching effects on the body such as increased heart rate, blood pressure and blood sugar. Cortisol halts digestive function, decreases the immune system response and stops any reproductive and growth processes in the body. The response itself is extremely useful when needed, but when under continued stress there can be widespread and chronic symptoms.
Initially, stress levels play a role in fertility due to their effects on hormone levels and thus ovulation. A large study found that, higher salivary cortisol was related to longer time to conceive and an increase risk of infertility. The causes for this will depend on the person, so it's best to consult your naturopathic doctor.
If/when pregnancy is achieved, due to the effects on the body that cortisol levels have, there are several that could have effects on the pregnancy itself. Elevated blood sugar levels in pregnancy can play a role in conditions like gestational diabetes, as well as challenges to a healthy weight gain
during pregnancy. Elevated blood pressure in pregnancy, can contribute to placental issues, restricted uterine growth, low birth weight and preterm delivery. One study shows that stress levels will have an effect on pregnancy maintenance, meaning that they can contribute to pregnancy loss, however there are usually more factors to consider with miscarriage. Further, research shows that prenatal psychological stress contributed to an 80% increased risk of stillbirth.
There have been some studies showing that increase perception of stress during pregnancy increases pregnancy associated nausea and vomiting. While neither have a direct effect on the fetus, it certainly makes pregnancy more challenging for the mother. During pregnancy, one study showed that pregnancy related stress contributed to pre-term delivery, and another linked stress in pregnancy to low birth weight. These adverse birth outcomes have been linked to life long chronic health issues for baby. Some research has shown that prenatal stress can alter neurological function in offspring related to things such as cognitive and motor development as well as impaired behavior when the offspring encounters stressful situations. Looking further out, there is some evidence that increased prenatal stress can even contribute to increased risk of allergies and asthma in children. A recent article found that prenatal stress is linked to changes in infant gut microbiota which can contribute to many things as babies get older, but more immediately may have an effect on infant growth and development.
Addressing stress can be difficult for many. Often it's a long and slow process of retraining your brain (remember how it all starts with your brain?) as well as targeted nutritional support, self-care and rebuilding of the foundations of health. If you are interested in learning more, reach out to Dr. Banducci at Strong Foundations Natural Health for a consultation. Additionally, you can check out Dr. Banducci's podcast episode 1 for some anxiety and stress management tips: https://podcasts.apple.com/us/podcast/mommas-munchies-and-little-monsters/id1539603328
Fatima M, Srivastav S, Mondal AC. Prenatal stress and depression associated neuronal development in neonates. Int J Dev Neurosci. 2017 Aug;60:1-7. doi: 10.1016/j.ijdevneu.2017.04.001. Epub 2017 Apr 4. PMID: 28389369.
Flanigan C, Sheikh A, DunnGalvin A, Brew BK, Almqvist C, Nwaru BI. Prenatal maternal psychosocial stress and offspring's asthma and allergic disease: A systematic review and meta-analysis. Clin Exp Allergy. 2018 Apr;48(4):403-414. doi: 10.1111/cea.13091. Epub 2018 Feb 8. PMID: 29331049.
Kuo SH, Yang YH, Wang RH, Chan TF, Chou FH. Relationships between leptin, HCG, cortisol, and psychosocial stress and nausea and vomiting throughout pregnancy. Biol Res Nurs. 2010 Jul;12(1):20-7. doi: 10.1177/1099800410361534. Epub 2010 May 7. PMID: 20453023.
Lindsay KL, Buss C, Wadhwa PD, Entringer S. The Interplay between Maternal Nutrition and Stress during Pregnancy: Issues and Considerations. Ann Nutr Metab. 2017;70(3):191-200. doi: 10.1159/000457136. Epub 2017 Mar 17. PMID: 28301838; PMCID: PMC6358211.
Lobel M, Cannella DL, Graham JE, DeVincent C, Schneider J, Meyer BA. Pregnancy-specific stress, prenatal health behaviors, and birth outcomes. Health Psychol. 2008 Sep;27(5):604-15. doi: 10.1037/a0013242. PMID: 18823187.
Lynch CD, Sundaram R, Maisog JM, Sweeney AM, Buck Louis GM. Preconception stress increases the risk of infertility: results from a couple-based prospective cohort study--the LIFE study. Hum Reprod. 2014 May;29(5):1067-75. doi:
10.1093/humrep/deu032. Epub 2014 Mar 23. PMID: 24664130; PMCID: PMC3984126.
Moyer CA, Compton SD, Kaselitz E, Muzik M. Pregnancy-related anxiety during COVID-19: a nationwide survey of 2740 pregnant women. Arch Womens Ment Health. 2020 Sep 29:1–9. doi: 10.1007/s00737-020-01073-5. Epub ahead of print. PMID: 32989598; PMCID: PMC7522009.
Wisborg K, Barklin A, Hedegaard M, Henriksen TB. Psychological stress during pregnancy and stillbirth: prospective study. BJOG. 2008 Jun;115(7):882-5. doi: 10.1111/j.1471-0528.2008.01734.x. PMID: 18485167.
https://www.technologynetworks.com/neuroscience/news/prenatal-stress-linked-to-infant-gut-microbiota-336578?fbclid=IwAR0jlKMV2mBgYecTxpqrVovABrLjcpTNdOmpIErorCbvIVlBIdzeX-8b6U0