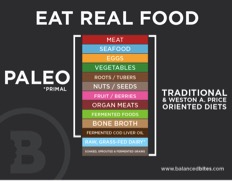 What is the Paleo diet?
The Paleo diet is loosely based on the idea that humans should ideally eat closer to what our hunter- gatherer ancestors ate before the advent of agricultural grain production. The diet focuses on whole foods and involves eating meats, seafood, eggs (preferably from organic, pastured, grass-fed or otherwise well raised/harvested sources), fruits, vegetables, nuts and seeds. The diet restricts consumption of grains (wheat, rice, oats, quinoa etc), dairy, processed food, refined sugar, legumes, industrial seed oils and fried food. A further iteration of the diet permits consumption of quality dairy products (called the "Primal" diet). Additionally many proponents of the Paleo diet suggest an 80/20 rule where 20% of the food consumed can be outside of the Paleo diet parameters as long as 80% of it is within the limitations. Additionally the Paleo diet suggests the one should focus on the nutrient density of foods instead of ratios of macronutrients (Ballantyne).
Why should I try the Paleo diet?
Studies on the Paleo diet have shown that many important health markers can improve with the Paleo diets. Subjects on a Paleo diet had significantly improved cardiovascular risk factors such as lower systolic and diastolic blood pressure, lower total cholesterol, lower triglycerides and higher HDL cholesterol (Boers et al). Additionally it was noted that along with the decreased cardiovascular risk factors, those subjects on the Paleo diet experienced unintended weight loss. A study on subjects with type 2 diabetes that compared the Paleo diet to a healthy diabetes diet found that the Paleo diet provided improved glycemic control than the healthy diabetes diet (Jönsson et al.). A third study that focused on weight loss in obese post-menopausal women in Sweden found that the Paleo diet had greater positive effects fat mass, abdominal obesity and triglyceride levels when compared to the national recommended diet (Melberg et al.)
What are the biggest challenges on the Paleo diet?
It's a challenge to stop eating some of your favorite/cultural foods and it can be difficult to eat meals at certain restaurants or social events.
Transitioning from a standard American diet to a Paleo diet can be difficult- especially due to decreasing levels of carbohydrates and sugars.
If the diet isn't varied enough there can be some micronutrient deficiencies (mostly due to the missing fortified grains).
A Paleo diet is not compatible with a vegan or vegetarian diet.
A transition to real foods especially with concern for sustainability of those foods (vegetables and meat) can be costly.
What does a day of Paleo meals look like?
In general most proponents of the Paleo diet suggest that each meal include protein, fat and carbohydrates and suggest that the amount of vegetables is substantially larger than the portion of meat (Ballantyne).
Breakfast: Sautéed veggie scramble cooked in butter (or ghee), pastured bacon, berries and coffee or tea with heavy cream or milk substitute
Lunch: Mixed salad greens with beets, cucumbers, carrots, grilled chicken and olive oil-balsamic dressing.
Dinner: grass-fed ground beef burger patty in a lettuce wrap with tomatoes, onions, pickles and avocado with a side of grilled veggies and baked sweet potato
Snack: handful of almonds, apples with almond butter or fruit and vegetable smoothie (with coconut milk).
References:
Ballantyne, Sarah. The Paleo Approach: Reverse Autoimmune Disease and Heal Your Body. Victory Belt Publishing. 2014.
Boers et al. (2014). Favourable effects of consuming a Palaeolithic- type diet on characteristics of the metabolic syndrome: a randomized controlled pilot-study. Lipids in Health and Disease , 13:160
Jönsson et al. (2013). Subjective satiety and other experiences of a Paleolithic diet compared to a diabetes diet in patients with type 2 diabetes. Nutrition Journal, 12:105
Mellberg et al. (2014). Long-term effects of a Palaeolithic-type diet in obese postmenopausal women: a two-year randomized trial. Eur J Clin Nutr. 68(3): 350–357. doi:10.1038/ejcn.2013.290.
Image: balancedbites.com